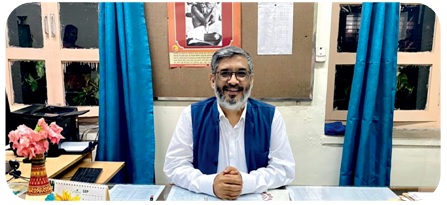 Head & Dean Central Institute of Education
University of Delhi
From the Desk of Head and Dean, CIE
The University of Delhi is a premier institute of international acclaim for highest academic standards. The University which was established in the year 1922 is celebrating 100 years of its inception. Amidst the many memorable events and programs marking the centenary milestone, we celebrate our values of inclusivity, diversity, acceptance and amity. In its long- term commitment to nation building, the University proudly ordains its motto 'Nishtha Dhriti Satyam' sustained by the ideals of truth, commitment and excellence.
It was soon after independence, the Government of India under the initiative of the then education minister, Maulana Azad established the Central Institute of Education in the year 1947 as the premium institute of professional learning and research in education. The institute was to provide inputs on Education to the Government of India and run a teacher education program which would be a model for other institutes across the country. Maulana Azad, the then education minister envisioned CIE not only to prepare 'model teachers' but to in fact evolve as a center which will come up with innovative and sustainable solutions to educational problems of the country. He prophesied CIE to grow into "a beacon light for training institutions of the country". In the year 1979, CIE became part of University of Delhi and become the Department of Education, University of Delhi. The department has showcased unflinching adherence to the vision of its founding fathers and has contributed in many significant education commissions and committees like the famous Mudaliar Commission, Professor Ananth Nath Basu being its member secretary who came from Shanti Niketan. Dr. Sharda Mani (Chechi), Professor R.P Sharma, Dr. Chand Kiran Saluja are the people who contributed significantly to the rich student teacher relationship and have been a great source of inspiration to me.
Established in the year 1947, the Department is celebrating 75 years of its inception and its undeterred commitment serving the best interests of the country. The Department has been active in its engagement with the National Education Policy 2020 and has successfully conducted the first national seminar on the National Curriculum Framework for Foundational Stage 2022. The transformative vision of the policy manifests an India which is based on the pillars of access, equity, affordability and justice. The Department in line with this vision is determined to contribute holistically to quality education and the overall national development. CIE with its rich cultural practices and ethos has a legacy which instills high values in its students and creates such a magnificent impact that they always feel like an integral part of the Department . There is a popular saying, "Once of CIE, always of CIE".
With Best wishes!